The Haunted Castle
The Bewitched Inn: (L'auberge ensorcelée [original title])
Frankenstein
Dr Jekyll and Mr. Hyde
The Cabinet of Dr. Caligari
Nosferatu
The Phantom of the Opera
Faust
The Bat
The Cat and the Canary
Dracula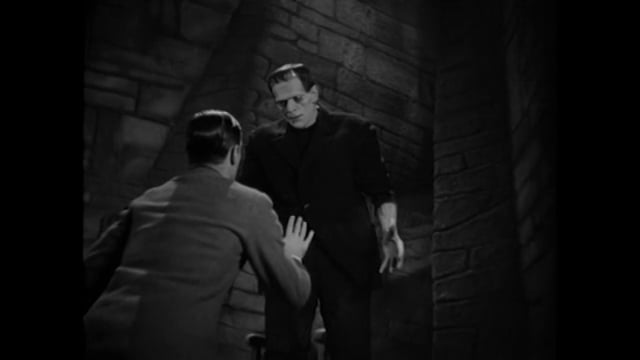 Frankenstein
The Most Dangerous Game
White Zombie
The Ghost Train
The Amazing Mr. X
Daughter of Horror
Earth vs. The Spider
Fiend Without a Face
I Bury the Living
A Bucket Of Blood
Attack Of The Giant Leeches
House on Haunted Hill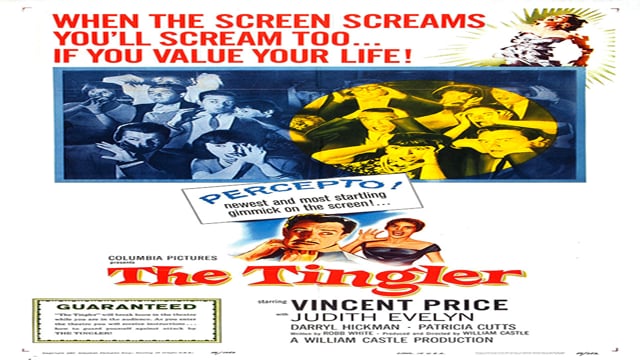 The Tingler
The City of the Dead
The Little Shop of Horrors
Night Tide
The Innocents
Carnival of Souls
The Last Man On Earth
Night Of The Living Dead
Horror Express
Dawn of the Dead
The Haunted Castle

(1896) A King, Georges Méliès, shows up at his new castle which happens to be haunted. Georges Méliès, Director: George Albert Smith.

The Bewitched Inn: (L'auberge ensorcelée [original title])

(1897) Nocturnal terrors beset a weary traveler (Georges Méliès). Director: Georges Méliès.

Frankenstein

(1910) Frankenstein (Augustus Phillips), a young medical student, trying to create the perfect human being, instead creates a misshapen monster. Augustus Phillips, Mary Fuller, Charles Ogle, Director: J. Searle Dowley. (Fantasy, Horror, Sci-Fi)

Dr Jekyll and Mr. Hyde

(1920) The renowned silent adaptation of the Robert Louis Stevenson classic about a Victorian scientist who turns himself into a murderous abomination. John Barrymore, Brandon Hurst, Martha Mansfield, Charles Lane, Cecil Clovelly, Nita Naldi, Louis Wolheim, Director: John S. Robertson. (Drama, Horror, Sci-Fi)

The Cabinet of Dr. Caligari

(1920) In this silent film, the narrator, Francis, and his friend Alan visit a carnival in a German village where they see Dr. Caligari and the somnambulist, Cesare, whom the doctor is displaying as an attraction. Caligari claims that Cesare can answer any question he is asked. When Alan asks Cesare how long he has to live, Cesare tells Alan that he will die before dawn tomorrow. Werner Kraus, Conrad Veidt, Lil Dagover, Hans Feher, Hans V. Twardowsky, Director: Robert Wiene. (Fantasy, Horror, Mystery)

Nosferatu

(1922) In this silent film, vampire Count Orlok (Max Schreck) expresses an interest in a new residence and in the wife (Greta Schroeder) of real estate agent Hutter (Gustav von Wangenheim). Max Schreck, Alexander Granach, Gustav von Wangenheim, Greta Schroeder, G.H. Schell, Ruth Landshoff, John Gottowt, Gustav Botz, Max Nemetz, Wolfgang Heinz, Director: F.W. Murnau. (Horror)

The Phantom of the Opera

(1925) A mad, disfigured composer (Lon Chaney) seeks love with a lovely young opera singer (Mary Philbin). Lon Chaney, Mary Philbin, Norman Kerry, Directors: Rupert Julian and Lon Chaney (uncredited). (Horror)

Faust

(1926) The demon Mephisto (Emil Jannings) wagers with an Archangel (Werner Fuetterer) that he can corrupt a mortal man's (Gösta Ekman) soul. Gösta Ekman, Emil Jannings, Camilla Horn, Wilhelm Dieterle, Frida Richard, Yvette Guilbert, Werner Fuetterer, Director: F.W. Murnau.

The Bat

(1926) In this silent film, Miss Cornelia Van Gorder and her niece Dale rent an old mansion that belongs to the wealthy owner of a bank. Their tranquility is disturbed when they discover that the bank has been robbed by the master thief known as The Bat. The owner is now dead, and he left the rest of his fortune, in cash, hidden in the mansion they are renting. Now, Van Gorder and her niece may be the new victims of The Bat, who wants to get the full loot and will do whatever is necessary to get them out of the house, alive or dead. André de Béranger, Charles Herzinger, Emily Fitzroy, Director: Roland West. (Mystery, Thriller)

The Cat and the Canary

(1927) In this silent film, an eccentric millionaire dies leaving behind a will that imposes a twenty year waiting period between the time of his death and the reading of the will. After twenty years, his greedy relatives assemble for the reading and no sooner is the heir named than strange doings are afoot. Laura La Plante, Director: Paul Leni. (Horror, Mystery)

Dracula

(1931) The ancient vampire Count Dracula (Bela Lugosi) arrives in England and begins to prey upon the virtuous young Mina (Helen Chandler). Bela Lugosi, Helen Chandler, David Manners, Director: Tod Browning. (Horror)

Frankenstein

(1931) An obsessed scientist (Colin Clive) assembles a living being from parts of exhumed corpses. Colin Clive, Mae Clarke, John Boles, Boris Karloff, Edward Van Sloan, Frederick Kerr, Dwight Frye, Lionel Belmore, Marilyn Harris, Director: James Whale.

The Most Dangerous Game

(1932) A cabin cruiser is shipwrecked off the coast of a remote island. Its three passengers manage to reach an island that is owned by a strange and enigmatic count who invites them to stay. But he has an ulterior motive for his apparent generosity. He enjoys hunting and he hunts only humans. Joel McCrea, Fay Wray, Leslie Banks, Robert Armstrong, Noble Johnson, Steve Clemento, Dutch Hendrian, Directors: Ernest B. Schoedsack and Irving Pichel. (Adventure, Horror, Mystery)

White Zombie

(1932) A young man turns to a witch doctor to lure the woman he loves away from her fiance, but instead turns her into a zombie slave. Bela Lugosi, Director: Victor Halperin. (Horror)

The Ghost Train

(1941) Mismatched travellers are stranded overnight at a lonely rural railway station. They soon learn of a local superstition about a phantom train which is said to travel these parts in the dead of night while carrying ghosts from a long-ago train wreck in the area. Arthur Askey, Richard Murdoch, Director: Walter Forde. (Comedy, Horror)

The Amazing Mr. X

(1948) On the beach one night, Christine Faber (Lynn Bari), two years a widow, thinks she hears her late husband Paul (Donald Curtis) calling out of the surf. Turhan Bey, Lynn Bari, Cathy O'Donnell, Donald Curtis, Director: Bernard Vorhaus.

Daughter of Horror

(1955) This film, with no dialogue at all, follows the nightmarish experiences of a psychotic young woman through one skid-row night. Adrienne Barrett, Bruno Ve Sota, Ben Roseman, Lucille Howland, Richard Barron, Edward Hinkle, Director: John J. Parker. (Film-Noir, Horror, Mystery)

Earth vs. The Spider

(1958) Teenagers from a rural community and their high school science teacher (Ed Kemmer) join forces to battle a giant mutant spider. Ed Kemmer, June Kenney, Gene Persson, Director: Bert I. Gordon. (Horror, Sci-Fi)

Fiend Without a Face

(1958) Invisible atomic monsters attack a U.S. Armed Forces base and the local residents. Marshall Thompson, Kynaston Reeves, Kim Parker, Stanley Maxted, Terence Kilburn, Director: Arthur Crabtree.

I Bury the Living

(1958) The newly elected director of a cemetery begins to believe that he can cause the deaths of living owners of burial plots by merely changing the push-pin color from white (living) to black (dead) on a large wall map of the cemetery that notes those plots. Richard Boone, Director: Albert Band. (Horror)

A Bucket Of Blood

(1959) Through an odd turn of events, Walter, a busboy, begins murdering people in order to impress the crowd that he thinks is cool. Dick Miller, Barboura Morris, Antony Carbone, Director: Roger Corman. (Comedy, Crime, Horror)

Attack Of The Giant Leeches

(1959) After a local trapper (George Cisar) sees a giant creature, people start disappearing. Ken Clark, Yvette Vickers, Jan Shepard, Michael Emmet, Tyler McVey, Bruno ve Sota, Gene Roth, Daniel White, George Cisar, Director: Bernard L. Kowalski. (Horror, Sci-Fi)

House on Haunted Hill

(1959) Frederick Loren has invited five strangers to a haunted house party, as he call it. He is offering each of them $10,000 if they can spend the night in the house, which just happens to have a reputation for murder. Vincent Price, Director: William Castle. (Horror)

The Tingler

(1959) An obsessed pathologist (Vincent Price) discovers and captures a parasitic creature that grows when fear grips its host. Vincent Price, Judith Evelyn, Darryl Hickman, Patricia Cutts, Pamela Lincoln, Philip Coolidge, Director: William Castle.

The City of the Dead

(1960) A young coed, in New England, using her winter vacation to research a paper on witchcraft, stays at an inn where she finds herself marked for sacrifice by a coven of undead witches. Dennis Lotis, Christopher Lee, Betta St. John, Patricia Jessel, Director: John Moxey.

The Little Shop of Horrors

(1960) A clumsy young man (Jonathan Haze) nurtures a plant and discovers that it is carnivorous, forcing him to kill to feed it. Jonathan Haze, Jackie Joseph, Mel Welles, Directors: Roger Corman and Charles B. Griffith (uncredited). (Comedy, Horror)

Night Tide

(1961) On leave in a shore side town, Johnny becomes interested in a young dark haired woman. They meet and he learns that she plays a mermaid in the local carnival. After strange occurrences, Johnny begins to believe that she may actually be a real mermaid that habitually kills during the cycle of the full moon. Dennis Hopper, Director: Curtis Harrington. (Horror, Thriller)

The Innocents

(1961) A young governess (Deborah Kerr) for two children (Martin Stephens and Pamela Franklin) becomes convinced that the house and grounds are haunted. Deborah Kerr, Peter Wyngarde, Megs Jenkins, Michael Redgrave, Director: Jack Clayton.

Carnival of Souls

(1962) After a traumatic accident, a woman becomes drawn to a mysterious abandoned carnival. Candace Hilligoss, Frances Feist, Sidney Berger, Director: Herk Harvey. (Horror)

The Last Man On Earth

(1964) When a disease turns all of humanity into the living dead, the last man on earth becomes a reluctant vampire hunter. Vincent Price, Director: Sidney Salkow.

Night Of The Living Dead

(1968) A group of people penned up in an old farmhouse battle bloodthirsty zombies. Duane Jones, Judith O Dea, Karl Hardman, Director: George A. Romero.

Horror Express

(1972) In the frozen wastes of Manchuria, an English anthropologist has discovered a frozen monster which he believes may be the Missing Link. Christopher Lee, Peter Cushing, Director: Gene Martin. (Horror, Sci-Fi)

Dawn of the Dead

(1978) Following an ever-growing epidemic of zombies that have risen from the dead, two Philadelphia S.W.A.T. team members, a traffic reporter, and his television executive girlfriend seek refuge in a secluded shopping mall. David Emge, Ken Foree, Scott H. Reiniger, Gaylen Ross, Director: George A. Romero.